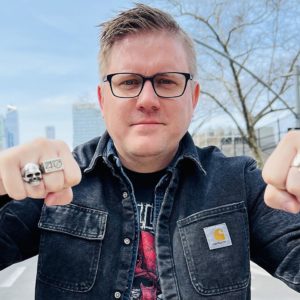 CHUCK ARMSTRONG:
The main thing you need to know about Chuck Armstrong is he's a fan first.
He was five years old when he went to his first concert—Def Leppard in Manhattan, Kansas—and he's gone full speed or nothin' ever since. Growing up, he was glued to his favorite rock radio station in Kansas City every chance he got, which often meant he was late to school because he didn't want to stop listening. It was a dream come true for him to eventually be on-air on that very radio station, but dreams have a way of evolving over time.
Thirteen years ago, Chuck moved to New York City to work for a couple of radio stations and quickly found himself enamored with a new website called Loudwire—which now reaches more than 4 million users and averages nearly 42 million pageviews every single month.
As soon as he could, he stuck his foot in the door at Loudwire. One of his first gigs was attending Metallica's Orion Music + More Festival in Atlantic City and over the three days he spent in AC, he interviewed nearly every single band that played. Of course, he was front and center for Metallica's performance of Ride the Lightning in its entirety—the first and only time they've ever done that in their career.
Throughout the last 12 years with Loudwire, more dreams came true, from interviewing Rob Halford and Vinnie Paul to sitting in a room with Kirk Hammett talking about horror movies and guitar solos. Chuck wrote about his international Record Store Day celebration in Istanbul and he's narrated many videos on Loudwire's massive YouTube channel, which is nearing 2 million subscribers.
Chuck was slammed against the railing for an intimate club show with Nine Inch Nails and he still may have some hearing loss thanks to Metallica's epic concert at the legendary Apollo Theater, all so he could tell the tales for Loudwire.
And now after sneaking his way in and never leaving, another dream is coming true as he steps behind the mic to host Loudwire Nights, the nationally-syndicated radio show that Chuck actually helped conceive and build years ago in New York City.
He's had his hands on the show since before day one and there is no one better suited to continue carrying the flag for Loudwire as Chuck brings the biggest interviews, latest news, and best music to your airwaves.
With his love for rock and roll and his deep appreciation for the men and women behind the songs, Chuck is ecstatic to share his fandom with radio stations across the country and millions of fans on Loudwire.com.